Starting and running a blog isn't easy. Around 70% of new blogs fail to generate any worthwhile traffic within the first year.
On top of everything else, every successful blogger will talk about the blogging mistakes they made in the early days of their business.
If you start a blog the right way, it'll save time and money in the long run. While a blogger who begins on the wrong foot will find themselves spending too much money, and their content won't attract as many new followers as possible.
Why? Because if you do it right, you will benefit from:
More relevant traffic to your site by answering your target audience's questions.

Higher ranking and engagement in Google as you create better content marketing.

Increased brand awareness as people get to know, like, and trust you or your brand, and, most importantly, more revenue.
As a blogger or small business owner, you don't have the time and resources to research everything. So in this guide, we've compiled twenty-one blogging mistakes to help you get the SEO basics right for your small business.
Here's how to fix any errors you've already made.
Launch phase. These blog mistakes should be avoided when setting up your blog.
Starting a blog is an intentional act with long-term repercussions.
Common mistakes in blogging are known, but what should you do if you already made one of the common mistakes?
It may seem like a time-consuming task, but starting your blog from scratch is a straightforward process.
1. Using Wix, Weebly, or Squarespace instead of WordPress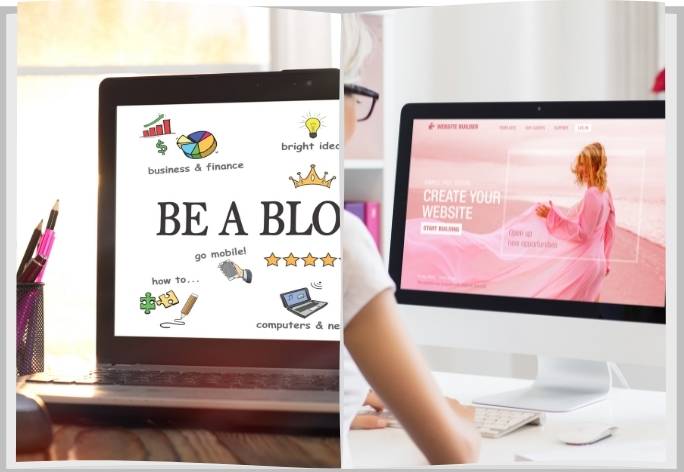 When it comes to picking a website builder, popular options are Wix, Squarespace, and Weebly.
These blog sites have strong marketing campaigns.
One way you may have heard of them is through a YouTube video, blogger, or podcast.
Think about it this way.
Both Wix and Weebly offer free websites that may make them tempting to a new blogger.
But the truth is that blogging has gotten cheaper—about $65 for your basic needs.
Though free hosting plans from sites like Wix may have their perks, they also have many limitations and drawbacks. For starters, the presence of ads and branding does not create a very professional feel for your site or blog.
The free plans usually come with limited space that doesn't provide enough room to grow your content without purchasing a more expensive plan.
As your blog continues to grow, you might find that Wix, Squarespace, and Weebly don't offer the functionality necessary for a growing business.
I recommend that new bloggers start their site with WordPress instead of using a website builder.
WordPress is the most popular and frequently used Content Management System (CMS), with over 34% of web pages using it worldwide.
The only costs associated are for a domain name and hosting services. Even if you are on a limited budget for hosting, the benefit of WordPress is that you still own your blog.
This way, one can also choose to buy premium themes and plugins to extend functionality.
The initial cost is relatively low with this route, but it does offer more long-term staying power in terms of what you can do without.
2. Choosing a WordPress theme that doesn't suit your blog might be disappointing.
If you decide to start your blog using WordPress, I would fully support your decision. However, even the most experienced bloggers make mistakes when they first launch their site.
Choosing the wrong theme can be a disaster. With WordPress, you can change your theme to suit the needs of your blog. Yet, it does need some time and planning on the part of the blogger.
Changing the site's appearance can be easy, but that doesn't negate the need to go back through each page. If you switch themes, the theme-specific settings will need to be changed by adding more code. This means that your site's layout may look funky and unprofessional until it is fixed.
3. Choosing a website hosting company that does not meet your requirements
Some new bloggers make the mistake of choosing outside hosting companies. Most hosting companies will allow you to launch your website and start pricing between $3-$15 monthly for entry-level plans.
Choosing a hosting service can be daunting. It's best to get the facts straight before selecting one.
Considering a hosting company for your blog? Here are the factors you should think about.
Features
Speed
Support
Track record
Security
4. Selecting a problematic to read and understand  domain name
One of the first decisions bloggers will have to make is what domain name to use.
Choosing a domain name for your site can make or break it. A good, memorable name is one of the most critical factors in how successful a website will be, so choose. Here are considerations when choosing your domain name.
It might seem like a minor detail, but make sure that the chosen domain is available for buy. Domain registrars such as Namecheap and SmartWP provide tools to see if your desired name is available now.
Your domain name must be easy to remember, as you want visitors to find it when looking for something online.
Keep your domain name simple with easy-to-remember keywords and a short, memorable extension (e.g., .com). While incorporating a fun spelling is unique, it can also be the key to hiding the blog post from future readers.
It's a major blogging mistake to use domain names similar in spelling or pronunciation as brands you didn't intend.
If you are struggling to find a domain name for your blog, you might want to look at this article about the new best generator.
Choosing a blog name is just as crucial as choosing the right domain name because your blog's topic is the foundation for what you communicate to your readers.
5. Choosing the wrong blog name.
If you registered a domain name for your blog, it should reflect the site's content somehow.
A blog name should be interesting, memorable, and relevant to its target audience.
Choosing a blog name that is the same as your domain can create a consistent brand experience.
6. Picking the wrong field to blog about
First, it's crucial to select the right niche for your blog. If you start with the wrong one, things can become complicated in the future.
I have seen a lot of bloggers make mistakes when picking the wrong blogging niche. They are mistakes that you can avoid making.
Blogging about something one does not find interesting
One may already be aware of some blogging niches that offer higher rates of success. Whether your blog makes money is part of the decision-making process. But it's never a good idea to decide on a niche plan based only on how much revenue potential there is.
If you don't have a personal interest in the subject matter, it will be difficult to blog about it again.
Blogging on something you don't have experience with
To be successful, passion is essential but not the only thing to consider.
If you are passionate about many things, it's essential to be knowledgeable and experienced with the subject matter.
People are more likely to come back and visit your blog if they trust that the information is accurate and reliable.
You should choose a niche that few individuals are interested in.
One significant takeaway is to have a passion for the niche you are blogging about and doing some research into what other bloggers are writing on.
Choosing a niche that has less of an audience does not mean creating a business plan is not necessary.
Write about anything you love—and find a group of other like-minded people.
If you want to start a blog and make money, then you should think about the demand for your blog post topic.
Choosing a niche can be hard to understand because you want to select something narrow enough that it's not too specific—also, broad enough where people are searching for your keywords.
If you want to get a sense of the search volume of your niche idea, Google Trends is an excellent place to start.
Do you want to know what's trending over a long period? Searching Google Trends is an easy way.
If your topic's associated search volume has been at a high rate for an extended duration, then it may be a good idea to start blogging about it.
Not choosing a clear niche.
One common mistake that people make when creating a blog is not defining its niche at all.
If you are interested in a wide variety of subjects, it may be tempting to create one blog with everything.
The most prevalent and popular topic of writing for me is travel. Yet, I understand that it may not be for everyone.
Without focus, someone reading your blog won't know what to expect—this is one of my top blogging mistakes. If you write about photography this week and traveling the following week, readers will be confused.
Blogging about specific topics will help you monetize your blog. You'll have a better chance at finding sponsors if your content is reliable and insightful. They know what type of audience they'll be reaching and will see significant benefits in their marketing campaign.
If you want to avoid this blogging mistake, choose a broad enough niche so that you can provide a variety of content. Additionally, make sure that your place is narrow enough to attract an audience who will be interested in what you have to offer.
Copying and pasting someone else's work onto a blog is dishonest.
Creating a blog in a competitive niche is an arduous task. It's easy to develop copycat content when other blogs with similar topics bombard you.
"If you want to create a profitable blog, the key is providing an interesting and unique perspective that still aligns with your audience. This way your blog won't be overlooked by any new or more popular blogs."
Blog-related mistakes to avoid when creating blog content
Once you've gained followers on social media, it's time to foster a strong connection with them.
There are right and wrong ways to blog, so it's essential you know what your mistakes are. It would help if you avoided common blogging mistakes for your content to be successful.
7. Selecting topics which the audiences are not interested in
Tracking down the target audience won't be an easy task. Starting a blog takes experimentation and patience before figuring out what types of content work for your industry.
When coming with topics to write about, take a moment to think of what would be helpful or interesting for your audience. What benefit will my blog provide for them? What information do they need to know that would be valuable for them?
While entertaining readers is essential for bloggers, it must be tempered with delivering accurate information.
You might think that what you are passionate about is also intriguing to your readers—you'd be wrong.
A blog is both a platform for self-expression and a means to connect with other people. It's essential to think about how your blog impacts others creating content.
8. Writing without an outline
Although outlining often lacks creativity and joy, it is a necessary step in the writing process that cannot be avoided.
A straightforward layout gives the writing directly from the get-go. If you find that ideas are pulling away from your main point, then cut them out so you don't waste time focusing on less valuable points of view.
The most successful blog posts are targeted and focused on a few key areas that will resonate with your reader.
I've also included a template for "killer content" on your blog, which you can use to start creating compelling articles for your site.
9. Writing (and publishing) without a plan.
How much time one has is available to write impacts the number of times you can write a new piece.
Some bloggers write once a month, while others write several times a week or daily.
More bloggers are finding themselves in the role of self-publisher, which is reflected by their blog.
Whether you blog often or infrequently, it's still important to make time for new content. There are many benefits to blogging, including passive income, but this doesn't mean that you can expect a large audience if you blog a few times per year.
There are many reasons for you give importance to your blog posts.
You develop your skill. If you only write a few times a year, you cannot hone your craft.
Creating ongoing content provides an opportunity to learn your readers' interests.
The content of your blog is one of the essential factors in boosting your Google rankings.
10. Forgetting to research topics
It is essential to know your niche inside and out and study up it before a blog post.
Doing deep research is a step that few bloggers take, but it sets your blog apart from the rest.
The nature of SEO never stays the same – Google's methods change from year to year, meaning what was once a reliable optimization strategy might no longer be effective with a researched and adjusted blog, I stay at the forefront of what it means to be a mom blogger.
Out of date or untrue information will make people lose faith in your content. A blogger should avoid making this mistake when posting. Avoid sharing false information and instead provide correct data.
Common mistakes marketing bloggers make when driving traffic to their blog
Creating and maintaining a blog can be very frustrating without proper guidance. When you publish content on your blog, take the time to share it with those who trust you so they know about it from the beginning.
If your blog is not getting the traffic it deserves, you can avoid these common mistakes in your marketing strategy.
11. Skipping best SEO marketing practices
Search Engine Optimization is the practice of optimizing blog posts to attract more traffic from the Internet. After every second on Google, there are 67 thousand searches performed. 93% of online blogging experiences begin with a search engine like Google.
If you miss SEO best practices and don't structure your website's content for search engine traffic, then a tremendous opportunity is missed.
Some of the best SEO practices include.
Conducting keyword research can be the beginning of a successful blog post.
Understanding the type of search query a user wants to perform
The secret to writing headlines for blogs that generate more traffic
Connecting your content with links
A meta description summarizes the content on your website, which appears beneath the URL in search engine results.
Optimizing a web page's URL
When you are looking to generate traffic for your blog, managing SEO is an essential factor.
12. Forgetting to promote on social media
I have before written that social media posts can provide mixed results because of changes to their algorithm.
Do not forget about social media promotion! The more likes and followers one has, the better.
There is no substitute for social network marketing to reach a wider audience with your message or product. Imagine how many people will see what it's all about by liking one post on Facebook. that number skyrockets when each like counts as an advertisement in their feed because of algorithms designed to rank content often seen over fresh new posts from unfamiliar sources. You can't afford any missteps if you want most exposure within easy access time frames. So, make sure every single post has been edited for typos before hitting "send."
13. Neglecting to network early
Neglecting to network early in blog writing
Network with other bloggers, create a website for your brand, and try different ways of promoting yourself.
An entrepreneur's success is dependent on their ability to build relationships. Also, connections within the field they are working in. This includes networking outside traditional business networks and joining organizations that will offer valuable resources. Also, opportunities you may not otherwise have access to, like blogging communities where there can be more interaction among others who share similar interests, such as publishing blogs themselves.
14. Forgetting to track your progress
When you are trying to write a blog but forget what you were writing about, don't worry. We all have the occasional lapse in memory and can get frustrated when we cannot find our thoughts right away. But there is no need for panic. Take a few minutes or even hours if needed, so your brain has time to process memories again!
When I am working on my latest post, sometimes I will struggle to find where I had left off with typing until finally, remembering-and feeling embarrassed, of course! It might sound like an easy mistake of forgetting something important at first glance. But actually, it happens often enough that most bloggers out there will tell you they've experienced this same problem before too. One way
When communicating with the readers of your blog, there are a few mistakes to watch for.
The conversation is one of the most rewarding aspects of blogging.
Blogging is a great way to start an open discussion with your readers. Making some mistakes in the process isn't unusual, so here are a few common errors bloggers typically make.
15. Taking much too long to build the list
It is crucial to start building your email list of blog subscribers as soon as possible. Underestimating the power of email marketing is one of our top mistakes here on the blog. Make sure to start using it early!
If you are not aware of what I mean by list building, don't worry.
Creating a list of email subscribers is called list building.
You may include an extra item in your newsletters, such as free promotional content for future giveaways or information on any new blog updates.
Even a simple email newsletter signup like this can offer an irresistible commitment to your original content.
Having a list of people who are drawn to your content means you never have to worry about building an audience again. By opting in, they've already shown their interest and preference for receiving information from your company.
16. Not responding to your readers
Many bloggers don't have the time and energy for their readers.
But it's all worth it. As a blogger, you cannot do many things at once and must make difficult choices about how best to spend your time. But taking time out of my day, week, or month (yes, the process is an ongoing one) to answer emails and messages from readers has been one of the most beneficial.
Why is being responsive to readers so important? Here are a few ways responsiveness helps your blog.
Investing time into blog outreach helps foster relationships, deepening your connection with readers. When blogging, you should make them feel valued by acknowledging their contribution and taking the time to respond to feedback.
Commenting on your posts encourages other people to engage with and share your content.
Turning your attention to blog comments can help identify the most pressing issues currently on your audience's mind.
To succeed with your blog monetization, it is crucial to avoid the following mistakes.
It is common for people who are new to blogging questions. Learning how to blog provides one of the essential steps in your blogging journey, and many bloggers want money but do not know where or how to start. The following are some mistakes I see people make when trying to make money from their blogs.
17. Not monetizing a blog in time
Bloggers believe that one has to wait until they get many visitors before posting ads on their blog.
I get it, and I don't say this lightly. If you have limited traffic to your blog, generating revenue can seem challenging, mainly as we exist in a world dominated by AdSense and affiliate marketing programs. But taking these opportunities is essential to success for any blogger-related venture.
There is a ton of benefits to starting marketing your blog from the earliest stages.
Provide discounts for early sales. Even if you only have a couple of visitors, someone may buy from you.
You may find your content goes viral, but the internet can be unpredictable.
Bloggers with an interest in making money quickly. Start to explore monetization methods soon after the initial creation of their blog.
If you start to make money blogging in the beginning, it will feel more familiar than anything else.
18. Creating content that doesn't convert
When trying to make money from their blogs, bloggers often don't produce content that is very compelling (or helpful) for readers.
Readers may only get so far reading your blog, but even if they do not make it to the end of your article. Else, take any action after reading it, there is a chance that their opinion about you might change.
To be a successful blogger, never write tips and tricks or promote only products and services you do not believe in.
When presented with an opportunity, you have the choice to turn it down. By saying no, your audiences will respect and trust you more in the future.
Writing posts for the sake of making money is one of the worst mistakes you can make in blogging.
There are several common mistakes people make when running their blogs.
19. Some bloggers do not know the technical aspects of blogging.
It's never too late to start a blog on WordPress, and though you don't need an IT expert to get started, it is helpful.
That said, understanding some of the finer points of blogging will better equip you to troubleshoot or fix any issues that arise on your blog.
Learning how to blog improves your control over the content on your blog.
When you decide to start your blog, it is easy to think that you need to learn everything from scratch. But in most cases, you need regular reminders to keep making small changes over time.
20. Not establishing your priorities
You know that feeling when you have a million things to do and no time? You are constantly juggling tasks, deadlines, priorities. Well, it turns out this is actually how most people feel in their day-to-day lives – they don't realize it until now!
If your blog post sounds like an article from 1995 or doesn't provide details on the topic of interest, readers will lose attention. So before publishing anything online, set some realistic goals for what content should cover. Be sure to include why those topics are essential so you can engage more readers with each new piece of work published here at [website].
21. Getting discouraged (and giving up early)
Here are some points on how to avoid giving up too early in blog writing.
Are you having trouble not getting discouraged and quitting your blogging efforts after a short period? This article is for you! Here, we will offer five ways to help prevent discouragement from killing all hope about blogging.
Set reasonable goals.
Commit to this endeavor.
Don't rush things (rushing leads people to mistakes).
Be patient when looking at results.
Find someone who's been successful so they can guide us along the way.
Conclusion
If you want to avoid common blogging mistakes, the following list should help. It includes some of the most frequent errors that bloggers make and provides a little insight into why they happen so frequently. It is helpful to bloggers or businesses who are new to marketing. They will find this post especially useful because it is packed with actionable advice for avoiding these pitfalls in your blog posts. These tips can be used whether you have an established blog or if you are starting on one! What types of things do you look for when reading blogs? Let us know in the comments below!
FAQs
What mistakes should one avoid when making blogs?
Save time and make your blog post easy to read by avoiding these common mistakes.
Create blog posts that align with your larger company goals.
Many factors present to an audience, but it is essential to identify what resonates with your audience.
Speak your ideas like you would in conversation.
Show off your personality. Don't tell it.
Repeating your point can help you ensure that it has been understood.
Create a starting title before you begin the writing process.
Posts should be specific but related to the topic.
Why do most bloggers fail?
With too much content on the Internet, it's hard for bloggers to create engaging and noteworthy posts.
Is blogging still relevant in 2021?
Building a blogging strategy can be daunting, but with these steps, you'll have success. videos will bring in 300% more traffic than traditional blog posts, and about 87.5% of marketers use visual pieces on their blogs half the time or more.
Do most bloggers fail?
This is the cold hard truth. Blogging is not for everyone, as most people fail at it. Many are intimidated by thinking of starting a blog themselves, but it isn't as tricky as you'd think to get your own going.
On which topic should I start be blogging?
Unsure what to blog about? Here are some examples of successful blogging niches.
Self-development
Learning
Health & fitness.
Share This Story